The
Lowdown
Are you a volume photographer who is constantly seeking to improve? Then the virtual Volume Photography Summer Camp is for you! Designed for and shaped by photographers, this Camp is packed with opportunities to learn from an amazing group of expert photographers, the team at GotPhoto, and other attendees. Plus, all talks and any optional workshops you purchase will be recorded, so you can fit the Camp around your own schedule! 
Last year's Camp was a resounding success and attendee Nickie Graybill put it best saying: "GotPhoto's Summer Camp was exactly what I needed for my business and provided the direction and implementation strategies that will propel my efforts forward this fall."
So this year we are upping our game! That means:
More speakers – See the full list below
Live workflow demonstrations
Knowledge exchanges
Interactive workshops
Lots of networking opportunities
Prizes and giveaways
What Do
You Get?
$50 print credit from your choice of one of our participating lab partners below!
Awesome door prizes and giveaways!
A fully customizable online learning experience with leading experts from the volume photography industry and other industries.
A virtual Camp with a flexible schedule that will allow you to attend the event as it best fits your day
Open classes/keynotes by a variety of speakers
Knowledge exchanges (7 people max) with our experts, enabling you to learn even more and get advice from some of the best in the industry directly
Hands-on workshops with leading experts both outside and inside volume photography covering topics such as marketing, design, SEO, and more. This is your chance to benefit from a fresh perspective. Limited numbers! See the full list below. 
Please note all recordings of talks and workshops will be available for attendees after the Summer Camp. Knowledge exchanges will not be recorded.
Ticket
Types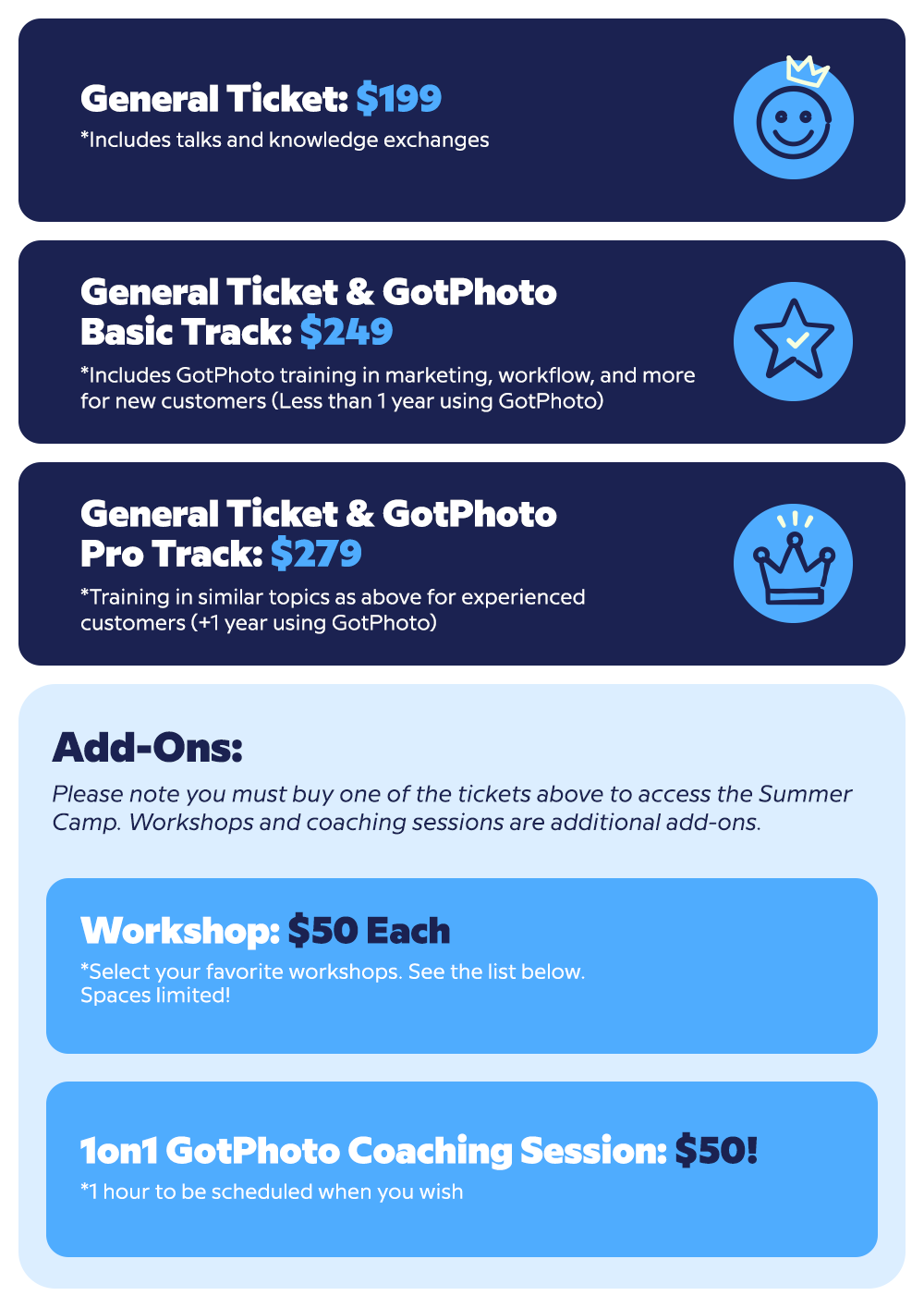 Disclaimer: If you wish to send further team members of your studio to Summer Camp, please get in contact with marketing@gotphoto.com for a possible discount.
Workshops
We are delighted to bring you a variety of hands-on workshops hosted by experts from various fields, photographers, and the GotPhoto team. Each workshop will last a minimum of 90 minutes and will be an interactive session where you walk away with lots of new ideas, useful materials, and more.
Before embarking on a successful sales or marketing campaign, you need a powerful message that reaches your target audience. Join Susan as she explains how you can powerfully share your message, verbally, in marketing and sales materials, and as talking points with your audience.

With his background in finance and years of experience in serving many photographers through GotPhoto, Benedikt has built up a wealth of knowledge on how to best structure pricing in volume photography. In this workshop, Benedikt will share his top tips, assess your price list, and offer key insights into how you can improve your pricing model.

To succeed in volume photography you need an excellent proposal strategy. Join Chris as he outlines what your proposal must include to be deemed credible, analyzes your current methodology, and offers his perspective based on years of experience. Walk away from this workshop with a reliable proposal method that will bring you more business.

Led by marketing expert, Jeremy Kagan, learn how to identify whether your website is SEO as well as user-friendly. This workshop will dive into optimizing your site for search results and improving its structure, so you can secure more clients.

While you may be an incredible volume photographer, without a well-structured marketing plan your business may not get the attention and earn the sales it deserves. Join this workshop to learn about the key elements you must have in place when putting together a successful marketing strategy and where you can improve. Emerge from this workshop with new ideas to take your business to the next level.

It is important to get your business in front of your customers and paid ads are a means of doing this. In this workshop, Jana dives into how you can set up ads on social media and Google, targeting the right audience, and measuring and tracking your success. Plus, Jana will provide you with sample ideas for ads for your business.
Our
Speakers
We will continue to add speakers as we confirm them. Check back here for details or sign up for updates using the form below!
Erica Morrow
Slow Road Photo

Mande Wickham
Magic by Mande

Blake Bullard
Richmond Lab

Jeremy Kagan
Digital Marketing Professor at Columbia Business School

Tim Macdonald
Image Art Studio

Jennifer Mercurio
Lasting Impressions

Rose Coleman
Center Stage Photos

Mitchell Moore
Portrait EFX

Carl Bott
CB Sports Photography

Benedikt Greifenhofer
GotPhoto CEO

Sheryl Bashore
Sheryl Z Photography

Jeanine McLeod
Cloud9 Studios

Stephanie McCauley
iSmile Studios

Hayley Hamaker
SB Photos

Chris Wunder
Portrait EFX

Susan Lindner
Emerging Media – Innovation Communication

Matthew 'The Body' Kemmetmueller
Kemmetmueller Photography
Want to stay in the loop?
Sign up for Summer Camp updates and we will inform you when the full schedule is announced, offers, and much more. 100%
Happier parents and schools
100%
Satisfaction guaranteed for you or get your money back.*