Earn More.
Save Time.
Stress Less!
Easily move your business online with the #1 workflow and sales solution for volume photographers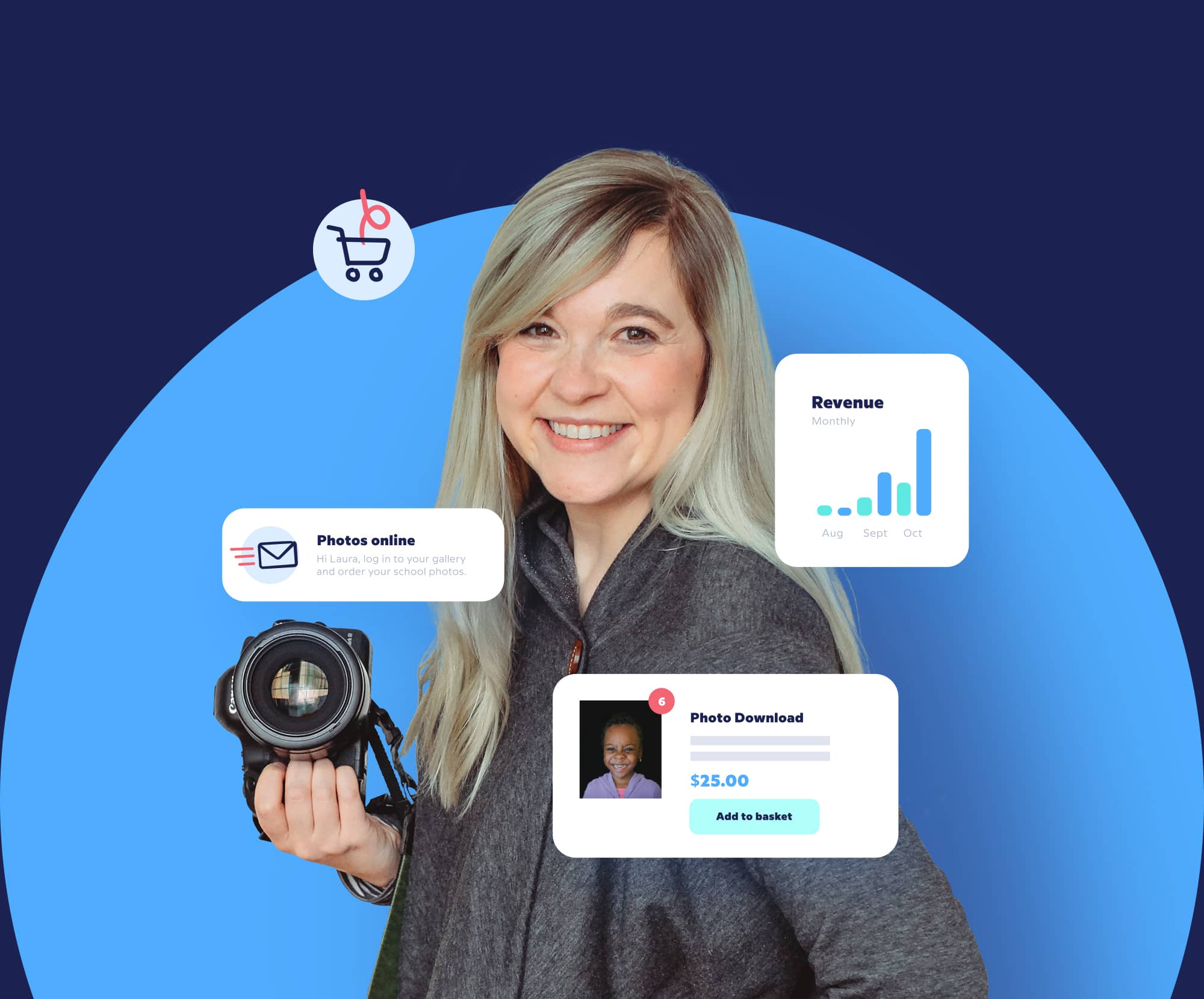 Capture photos easily
Save time with our capture options that automatically sort images into individual galleries upon upload! Whether you have the complete names lists ahead of time or are working from a blank slate, our system makes online galleries easy to create!
Sell in your shop
Prepay, proofing, or a combination of both – you choose how you sell! Offer multiple poses in your own modern, mobile-friendly online shop so you can earn more and have happier parents.
Preview a sample online shop below!
1. Use access code GotPhoto for the proofing shop and code PrepayDemo for the prepay shop
2. Fill in your details as a parent to view
Promote galleries to your clients
Create and send automated email and text messages for parents to notify them when their child's photos are ready online – and for reminders to purchase. No more forgotten order slips!
Fulfill orders through your selected lab
We eliminate the stress of fulfilling and delivering orders. Paid orders can automatically be sent to the lab for fulfillment, or you can easily do it yourself. You choose to have orders drop or batch shipped to the school or your studio, or allow parents to order directly to their homes.
Better purchasing experience

for your customers

Images are automatically uploaded into secure, password-protected individual galleries for each student. The modern online shop is user-friendly, easy to navigate, and offers multiple poses for parents to choose from and purchase. Buying online is the way forward – offer a shopping experience that works for everyone's schedule!
Streamline your workflow

and earn more

How many times have you stayed up late or spent hours going through customer emails, sorting individual payment forms, or double-checking that orders have been sent to the lab? How much potential revenue have you missed by only offering one image to parents?

GotPhoto saves your valuable time by automating tasks, setting up reminders to purchase, and helping you earn more by offering multiple poses and upselling options.
Focus on moving forward!
We've got your back.
Personalized onboarding
Before your first job, one of our experts will make sure everything is set up correctly and that you are ready to tackle picture day!
Outstanding support
Our support team is there for you every step of the way and is always happy to assist you with your inquiries.
Business Consulting
Grow your business with the resources we offer on our website, such as guides, white papers, and webinars. We're only successful when you are, and we take pride in working with our customers as a partner, not just a software solution.
Want to stay in the loop?
Make sure to sign-up for our email newsletter to keep updated on new resources, events, and product updates from GotPhoto! 100%
Happier parents and schools
100%
Satisfaction guaranteed for you or get your money back.*